Pot-steamed Hotchpotch (Chawan-mushi)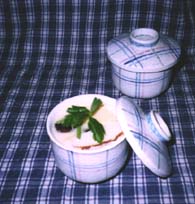 Japanese is here.
---
Ingredients(4 servings)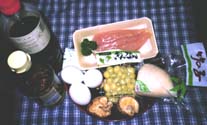 2 chicken sasami
Seasoning.....1 teaspoon soy, 1 teaspoon sake
8 slice kamaboko
100g boiled takenoko (bamboo shoot)
12 peeled ginnan (ginkgo nuts)
4 mitsuba
A little yuzu peel
egg soup
3 eggs
3 cups dashi soup
2/3 teaspoon salt
1 teaspoon light soy
1 teaspoon sake

---
Preparation
Put dry shiitake into water and soften
them. Slice bamboo shoot.

Slice and season chicken.
---
Recipe
Mix the beaten egg with dashi soup and seasonings. Filter it.
Put chicken, shiitake and bamboo shoots into each cups. Leave 4~5 tablespoon of egg soup and pour the rest into them. Steam them for a minute over high heat and then steam for 16~17 minutes over low heat.

Put Kamaboko and ginkgo nuts in them, pour egg soup and steam again for 2~3 minutes. Put mitsuba and yuzu peel in each cups.
---
To Top page
---
This page is brought to you by Tomoko Sakamoto.
Any comments to stomo@cc.kyoto-su.ac.jp
Last modified: Wed Nov 13 16:23:39 JST 1996