Last updated on 08 May, 2005
Notice
International Conference
Experiments in Economic Sciences:
New Approaches to Solving Real-world Problems
EES2004
Okayama and Kyoto, Japan
14-17 December 2004
| | |
| --- | --- |
| | |
| Okayama in December | Kyoto in December |
Keynote Speaker:

Prof. Vernon Smith (2002 Nobel Laureate, George Mason University)

Guest Speaker:

Tatsuyoshi Saijo (Osaka University, Japan)

Invited Speakers:

Prof. Paul Bourgine (Ecole Polytechnique)
Prof. James Cox (University of Arizona)
Prof. Ido Erev (Israel Institute of Technology)
Prof. Daniel Friedman (University of California, Santa Cruz)
Prof. Robin Hogarth (Universitat Pompeu Fabra, Barcelona)
Prof. Shyam Sunder (Yale University)
---
Despite having a short history in economics, experiments have proved to be as indispensable as in other fields of science and engineering. Experimental economics has broadened and deepened our understanding of the economy and human behaviour. Researchers are expected to develop the tradition with new ideas in new fields for solving various problems in the real world.

An international conference, which will be held in Japan in December 2004, aims at exploring new fields for experiments with new approaches. It will provide a unique opportunity for those who are engaged or interested in experiments in their fields to discuss experimental approaches from various standpoints.

The organising comittee is calling for papers in areas of experimental studies in economic sciences, which include but are not necessarily limited to economics, accounting, management theories, and social engineering. Experiments for understanding and improving the real world are welcome, though experiments for testing economic theories will not necessarily be excluded. Papers are welcome also in the fields of economics education.

Any type of "experimental" research or other types of research based on new ideas or methods are welcome. Those researchers, young researchers in particular, with novel analytical ideas or tools are encouraged to present their research at the conference. Financial support for young researchers (including graduate students) will be available, while papers will be reviewed primarily from the viewpoint of novelty and originality.

The conference is organised and sponsored by the Hayashibara Foundation and Kyoto Sangyo University (KSU). It is also an activity of the Open Research Centre Project "Experimental Economics: A new method of teaching economics and the research on its impact on society" and a part of the Experimental Economics Week in Honour of Dr Vernon Smith sponsored by KSU. Dr Smith's keynote speech to the general public, which will be made at Kyoto Sangyo University on the 13th December 2004, is sponsored by Kyoto Sangyo University. The sessions of experimental accountings are supported with the cooperation of Research Institute for Economics and Business Administration, Kobe University; The sessions of co-creative decision making are supported with the cooperation of Research into Artifacts Center for Engineering, The University of Tokyo .
---
---
Organising Committee of the Hayashibara Forum 2004:
Chair Person Sobei H. Oda (Professor, Kyoto Sangyo University, Experimental Economics)
Katsuhiko Nagase (Professor, Tokyo Metropolitan University, Experimental Management Theory)
Akira Namatame (Professor, National Defense Academy in Japan, Artificial Intelligent System)
Kanji Ueda (Professor, University of Tokyo, Co-creation Engineering)
Hidetoshi Yamaji (Professor, Kobe University, Experimental Accounting)
Yoshio Iida (Professor, Division of Economics, Graduate School of KSU);
The Open Research Centre, Division of Economics, Graduate School of Kyoto Sangyo University
Head: Prof. Mikio Yagi (Division of Economics, Graduate School of KSU);
Project Leader: Prof. Sobei H. Oda (Division of Economics, Graduate School of KSU);
Prof. Yoshio Iida (Division of Economics, Graduate School of KSU);
Prof. Mariko Yasugi (Division of Science, Graduate School of KSU);
Prof. Yoshihiro Nakajima (Osaka City University; Visiting Professor, KSU)
Dr Takayuki Nozawa (Research Associate, National Institution for Academic Degrees and University Evaluation ; Visiting Researcher, KSU)
Dr Atsushi Iwasaki (Research Associate, Kyusyu University; Visiting Researcher, KSU)
Dr Kouhei Iyori (Post Doctoral Fellow, Japan Society for the Promotion of Science; Visiting Researcher, KSU)
Dr Yasuyo Hamaguchi (Post Doctoral Fellow, Division of Economics, Graduate School of KSU)
Dr Gen Masumoto (Post Doctoral Fellow, Division of Economics, Graduate School of KSU)
Mr Tomonori Kadota (Research Assistant, Division of Science, Graduate School of KSU)
Mr Tetsuya Hirose (Research Assistant, Division of Science, Graduate School of KSU)
---
Contact point:
---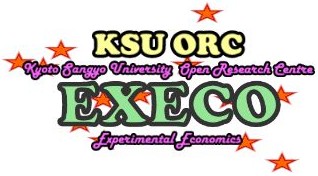 The Open Research Centre WWW Site