Oyako-don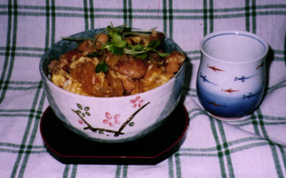 Japanese is here
---
Ingredients(2 servings)


150g chicken thigh
1 onion
1 tablespoon green peas(frozen)
2 eggs
seasonings
3 tablespoon soy
4 teaspoon sugar
2 teaspoon mirin(sweetened sake)
2 teaspoon sake

---
Preparation
Slice chicken into small bite-size pieces, pour boiling water on them for removing smell and extra fat, and drain.
Slice onion.
Boil green peas roughly.
---
Recipe
Put 1 cup water, seasoning, chicken and onion in the pan and cook them. Turn the fire down after boiling soup up.Cook it for 2 or 3 minutes.


Spread the beaten egg over the onion and meat in the
pan. Sprinkle green peas on egg and cook until the egg harden partially.

Put the hot rice in each donburi(bowl). And place 5 on top of the rice.
---
To Top page
---
This page is brought to you by Tomoko Sakamoto.
Any comments to stomo@cc.kyoto-su.ac.jp
Last modified: Wed Nov 13 16:23:39 JST 1996