Hirakata Now & Then
This is a brief look at Hirakata as it was in the 1960's and how it is now. I plan to add more pictures as they become available. I would like to thank the Hirakata City Department of Public Information for providing the older black and white pictures.
The Hirakata Station Area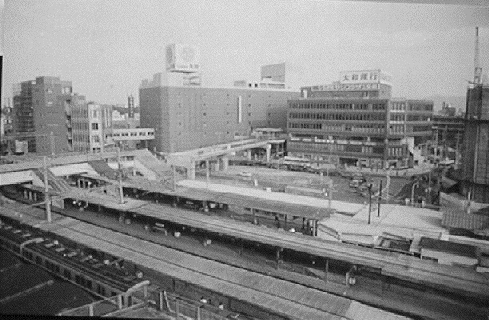 The old ground-level station (above) has been replaced by a modern
elevated station with wider platforms and stairs. Each platform
is equiped with both escalators and an elevator. Note how crowded
the station was. (Circa 1963)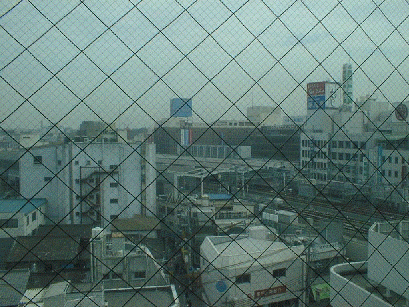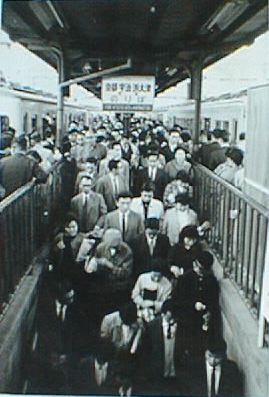 The picture taken through the reinforced glass was shot from the elevator at the 6th floor level of the "Vivre" building, the tall building on the right in the "after" shot of Okahonmachi , a few shots below. (The Vivre building can also be prominently seen the "Mukunoki" panorama. The upper levels are a condominium.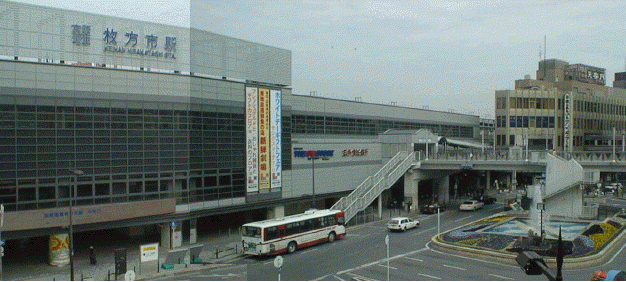 This is a picture of the new station from the side of the Mitsukoshi and Kintetsu department stores.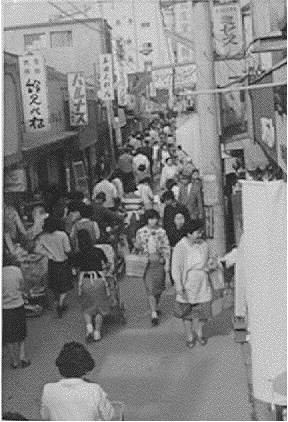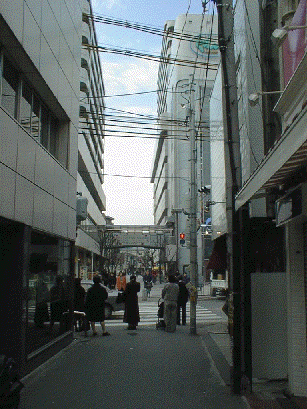 These two photos are a before and after shot of the "Okahonmachi" shopping street which contained an 'ichiba' (enclosed market). This area was redeveloped, all of the shops moving into the two buildings that you see across the street on the right and left.

This is a shot of the center of the city taken from a nearby hill which bears an old tree called the 'Tanaka Mukunoki'. The non-characteristic steeples belong to the local Catholic church.
Hirakata Koen Station

This is a view of Hirakata Koen Station which has recently been remodeled. It is a composite of two photos, thus the line in the the middle! The photo was taken from the central plaza, which is actually the roof of a parking area for some 3000 bicycles and motorbikes. The gray windowed structure on the left side is one of the exits.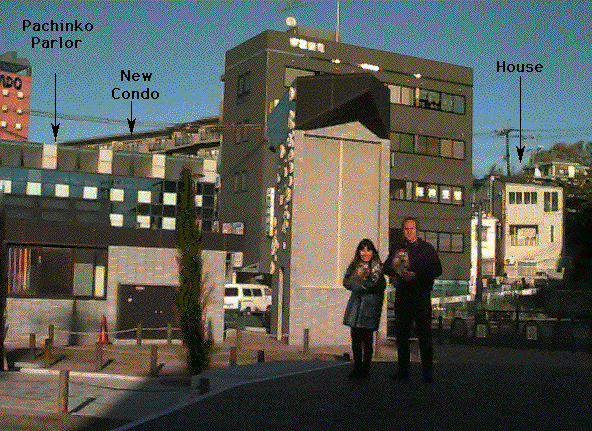 This is a shot of the other side of the plaza in front of Hirakata Koen Station showing our house and two people with two dogs. (Guess who?)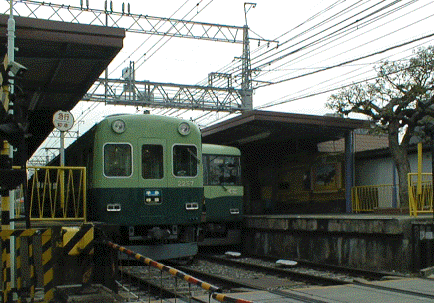 This picture, taken at the crossing on the left side of the above photo, shows two of the Keihan trains, the one partially hidden being one of the newer models, in the 6000 series.
Back to the Tom's Home Page