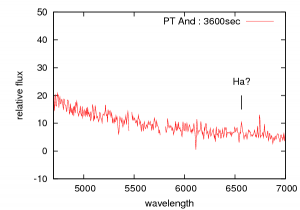 We obtained an optical spectrum of PT And = M31N 2010-12a (c.f. CBET 2574)
according to the report by vsnet-alert on 2010 Deceber 10.
No prominent emission lines were detected in our spectra
as observed in ordinary classical or recurrent novae in its early decline phase.

Our result is in agreement with recent reports that the object
appear to be a dwarf nova ( [vsnet-alert 12484] , [vsnet-alert 12527]).