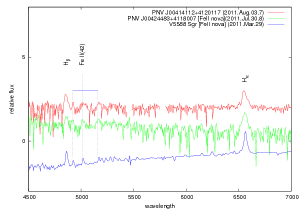 We performed low-dispersion optical spectroscopic observations of Possible Nova in M31 (= PNV J00414112+4120117) using the 1.3m Araki telescope on 2011 August 03.7UT.
The red spectrum in the figure shows our preliminary spectrum of PNV J00414112+4120117. Our spectra of PNV J00424483+4118007 and V5588 Sgr are also shown.
The spectrum exhibits the broad H-alpha, H-beta emissions (FWHM about 1600 km/s) and Fe II multiplet emission features, which suggest that the object is a Fe II-type classical nova after the maximum.