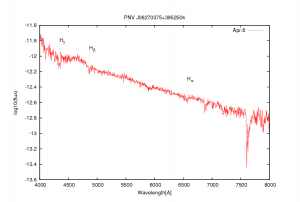 We performed low-dispersion optical spectroscopic observations
of a new optical transient (CBAT name is PNV J06270375+3952504) using
1.3m Araki telescope with LOSA/F2 (R~580 at H-alpha) on 2013 04 08.45 UT.
The figure shows our spectrum of the object.

The spectrum shows the Balmer series absorption in H-alpha, H-beta and
H-gamma on a bluish continuum emission. The H-alpha absorption seems
to be filled with its emission component. The FWHM of H-beta absorption line
is about 900 km/s.

These spectral features suggest that the object would be a dwarf nova
during its outburst.